Vadamadurai Village, Thiruvallur District, Tamil Nadu, September 16, 2023 – Kuehne + Nagel, a global leader in logistics and supply chain solutions, has announced the adoption of Vadamadurai Village as part of their CSR Initative. This transformative initiative, conducted in collaboration with Viruksham, a project of Mastermind Foundation, marks a significant step towards sustainable agriculture and environmental conservation.
The event, held on September 16, 2023, witnessed the distribution of over 2000 coconut saplings to 1000 farmer families in Vadamadurai Village. As these saplings grow to maturity, they are projected to absorb a remarkable 44 tons of carbon annually, contributing significantly to the fight against climate change.
In addition to its environmental impact, this initiative is poised to bring about a host of socio-economic benefits for the local community. The coconut tree, known for its versatility, provides resources that can be utilized throughout the year, offering a stable source of income for the farmers. This comprehensive approach not only aids in income generation but also addresses critical issues such as soil erosion, protection of the water table, and fostering habitats for both native and migratory bird species.
Ms. Sophia Pearlene Reginal, Head of South India at Kuehne + Nagel commenced her address by expressing her gratitude to the farmers of Vadamadurai for their vital role in feeding the nation and contributing to the agricultural sector. She emphasized that agriculture is not just a profession but a way of life that deeply connects us to our environment.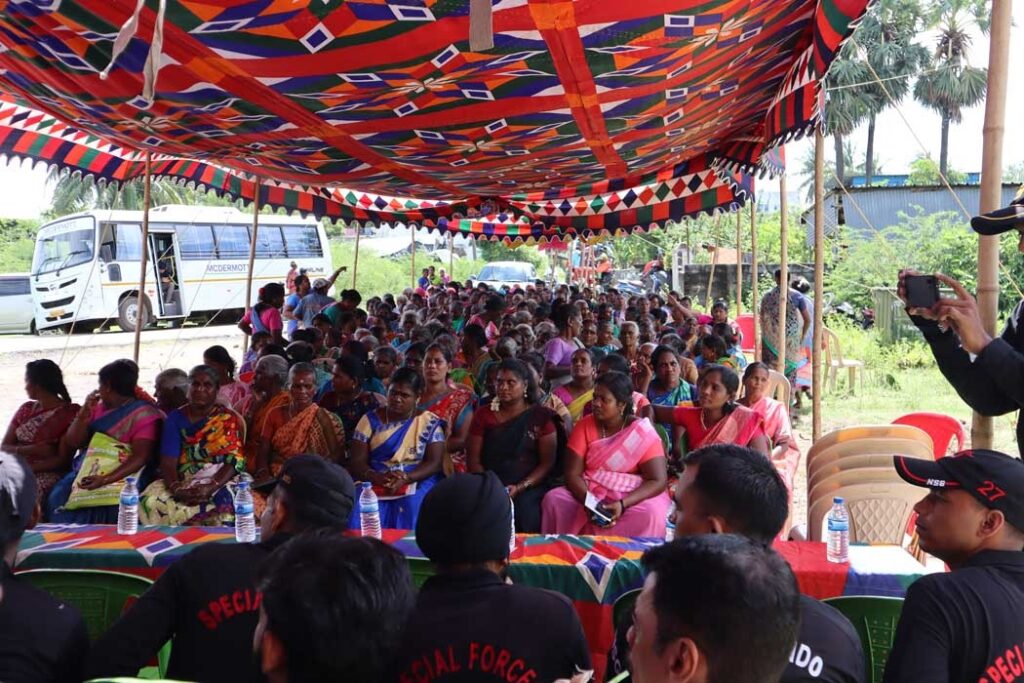 During her engaging speech, Ms. Reginal highlighted the importance of tree plantation in countering climate change and environmental degradation. She stressed that trees play a pivotal role in mitigating the effects of global warming by absorbing carbon dioxide and releasing oxygen, thereby improving air quality and providing a natural habitat for biodiversity.
Furthermore, Ms. Reginal emphasized the numerous benefits of growing coconut trees in the region. Coconut trees are not only a source of nutritious food but also provide raw materials for various industries, such as coconut oil and coir production. Additionally, coconut farming promotes sustainable agricultural practices and has the potential to enhance the economic well-being of the local community.
Mr. Sriram of Kuehne + Nagel during his address of the gathering asked the farmers to safeguard the trees. He also conveyed that coconut trees provide a sustainable, stable and regular source of income to the farmers.
Thiru E K Godandan, President of the town Panchayat, Village head and ward members was notable attendee of the event apart from the diverse group of farmers, agricultural experts, and community leaders who actively participated in the discussion.
Lt. Col. N. Thiagarajan (Veteran), General Secretary of Mastermind Foundation, lauded this commendable endeavour, stating, "This is a very noble Initiative by Kuehne + Nagel. This will prove to be a great boon for the farmers of Vadamadurai."
Along with the regional head, 45 Volunteer team members of Kuehne + Nagel participated in the event. Six Members from National Security Guard (NSG) participated as volunteers to extend their service towards environmental cause.
Kuehne + Nagel remains committed to driving positive change in the communities where it operates. Through the Rural Livelihood Farmers Support Program, the company aims to empower local farmers, promote sustainable practices, and create a lasting impact on the environment.
About Kuehne + Nagel:
Kuehne + Nagel is a global logistics company with a strong foothold in supply chain solutions. Operating in over 100 countries, the company is dedicated to providing innovative and sustainable logistics services to a wide range of industries.
About Mastermind Foundation:
Mastermind Foundation is a non-profit organization committed to fostering positive change in communities through a range of initiatives, including environmental conservation, education, and livelihood support programs.
About Viruksham:
Viruksham is a project under Mastermind Foundation, dedicated to environmental conservation and sustainable development.